COVID 19: Catholic Diocese converts parts of Yola Pastoral Centre As Isolation Centre In Adamawa
The Catholic Bishop of Yola Diocese, Most Rev. Stephen Dami Mamza says the church has made available the pastoral center in Yola to Adamawa state Government in support of the fight against coronavirus pandemic.
Bishop Dami Mamza stated this while briefing Journalists in Yola to clear the air on the confusion that the church offered Saint Peters Minor seminary to serve as isolation center whenever the state records case of the diseases.
He categorically explained that when Government announced partial lockdown in the state, the Catholic Church decided to make available it's one hundred rooms in the pastoral center Yola behind saint Peters seminary to Government as a contribution to fighting the pandemic.
Bishop Mamza who doubles as the state chairman of the Christians Association of Nigeria (CAN), however, commended Governor Ahmadu Fintiri for relaxing the lockdown while prevailing on the residents to reciprocate by complying with directives and help tips to avoid contracting the virus.
'' There is no need to panic because the government seems ready to tackle any case of the diseases.
'' People should abide by health regulations on preventing coronavirus such as avoiding crowds and observing social distancing as well as regular washing of hands and maintaining personal hygiene,'' he stressed.
The clergyman stressed that managing coronavirus pandemic is a collective responsibility as the virus does not have respect for religion, tribe or political learning of any person.
COVID-19: Reopening Of Schools, WAEC Is Not Possible -FG Gives Update
The Minister of state for education, Chukwuemeka Nwajiuba, has maintained that the reopening of schools across the country was not possible at the moment.
The Federal Government had ordered the closure of schools since March to curb the spread of the deadly coronavirus (COVID-19).
The government also stopped Nigeria schools from participating in the 2020 West African Senior Secondary School Certificate Examination (WASSCE).
Speaking to newsmen at the end of the eighth virtual federal executive council meeting, on Wednesday, Nwajiuba said schools would remain closed till adequate safety is assured.
He also revealed that the West Africa Examination Council (WAEC) was in negotiation with other countries in the region over the possibility of shifting the 2020 exams.
Nwajiuba said: "We are still meeting with parents over that, we are not confident, yet that everywhere is safe, the number of COVID-19 infections from the National Centre for Disease Control (NCDC) is still very alarming, and we have presented this to parents and all stakeholders in the education ecosystem.
"We are still meeting with them; in fact, there is a stakeholder meeting slated for Monday next week.
"WAEC on its own part is also negotiating with other West African countries to look at possible shifts in date, and once they are through with that meeting and hopefully when we are also through with the consultations if there is any change in the ministry's position, we will communicate."
Magu Fires Back: 'I did not steal Nigeria's money'
Suspended Chairman of the Economic and Financial Crimes Commission (EFCC), Ibrahim Magu, has maintained that the allegations tendered against him are a tissue of lies.
Magu was let out of jail on the evening of Wednesday, July 15, 2020 after being picked up a little over a week ago and interrogated by a presidential panel probing allegations of corruption and insubordination tendered against him by Attorney General of the Federation Abubakar Malami.
He has been specifically accused of re-looting recovered loot and assets.
He was immediately suspended, with Mohammed Umar named to replace him in an acting capacity.
After he was released from police custody, Magu said he was shocked to read the allegations leveled against him, branding them as a tissue of lies.
"The allegations are nonsense. There are mere trumped up allegations to tarnish my image and that of the EFCC. I did not steal or divert or convert funds to private use. I read the allegations, and I was shocked," The Nation quotes Magu as saying as he stepped out of police custody.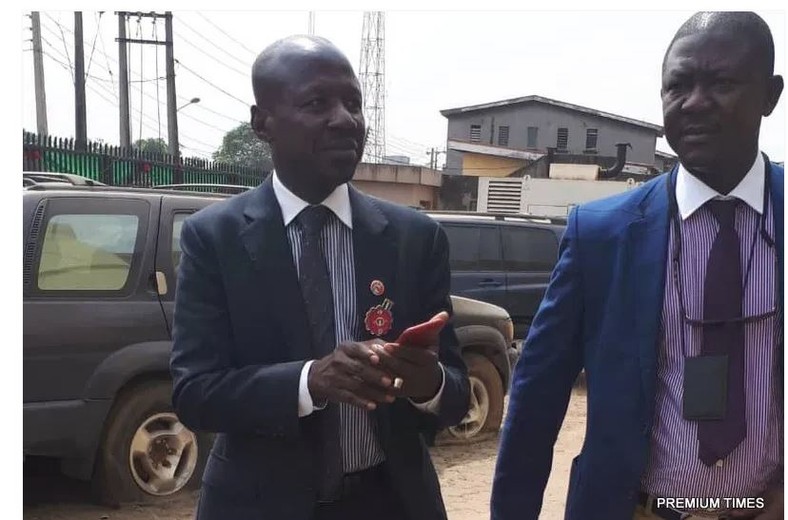 Ibrahim Magu was released from prison custody on Wednesday evening (Premium Times)
"What I have gone through is a case of dog eats dog but I see it as one of those risks of the job… we must not give up in any way."
Magu also vowed to fight corruption till the very end and appreciated everyone who stood by him during his detention.
"Corruption kills a nation faster than any other thing.
"I thank Nigerians for their support, they should not be discouraged. I am happy to be back, I believe the war against corruption is winnable.
"Whether I am EFCC Chairman or not, the anti-corruption war must continue," he vowed.
Magu has also bemoaned why he has been treated like a "common criminal" for serving his nation.
Magu is being grilled by a panel led by
Justice Ayo Salami,
 a former president of the Court of Appeal.
He was appointed acting EFCC Chairman by
President Buhari 
in 2015 and is yet to be named as the substantive boss of the anti-graft agency, after the legislature twice turned down the executive's request to confirm him for the role.
JUST IN: Taraba NLC Chairman Dies Of COVID-19
Taraba State chairman of the Nigeria Labour Congress (NLC), Peter Gambo, is dead.
Peter Gambo who was isolated early this month at the Taraba State specialist isolation centre Jalingo, died this morning at the hospital.
Management of the hospital confirmed the news of his death.
Peter Gambo, until his death, was serving his second term as NLC chairman, Taraba State.